2016 Schedule for Canopy Climbs Open to the Public:
Climbs are scheduled on a weekend day once per month.


Date
Day
Time
Location (click for directions)
Apr 10
Sunday
2:00 - 5:00 PM
Canceled
Remaining dates in 2015 will be scheduled and posted soon.

Adults = $34
Student or youth = $29 (youth is age 5 - 12)

Check the location above then come see us for a great tree climbing experience.

If you wish you may RSVP (optional). We'll save a spot for you and send you weather updates.

Experience The Fun and Exhilaration of Climbing High Into a Tree

Using a rope and harness, safely climb higher in a tree than you ever thought possible. This is an experience both for newcomers and folks who have climbed before.

Tree climbing is not only terrific fun, it's also educational and therapeutic. All ages from 5 to 105 may climb using self-belayed techniques that make it easy to advance up the rope and allow you stop at any point and hang out.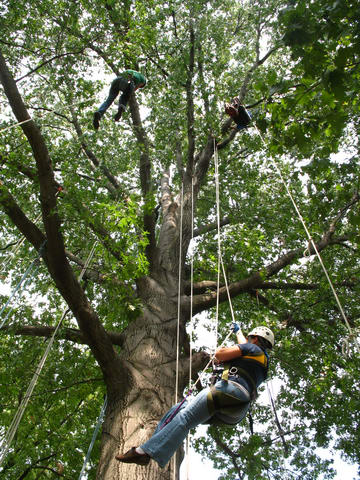 Climbing Tree Molly
At EarthDance Farms


This is a great opportunity for individuals and small groups to participate in tree climbing. We hold these events at our climbing trees in Ferguson, MO, 20 minutes from downtown St. Louis. We have a fabulous, big Tulip Tree named Asherah, a great Red Oak named Molly, and other climbing trees.

All equipment (harness, rope, helmet, gloves, etc.) and instruction is provided. Participants may climb more than once (time permitting). Participants should be in reasonable physical condition, able to easily climb 2 flights of stairs.

Public Canopy Climbs are scheduled on the first Sunday of each month. Bad weather conditions may cause cancellation including severe temperatures, precipitation or high winds. Please contact us with any questions or requests.



Instructions for Climbers:
Each participant must sign a waiver
Wear loose fitting, rugged clothing for climbing
Dress for the weather, wear layers to adjust for the temperature
Wear closed toe shoes
Climbers should have nothing loose in their pockets
Long hair will need to be tied back
Bring water, munchies or other refreshments as desired
Absolutely no alcohol or drugs
No pets please